Bali is one of the most beautiful and famous Indonesian islands. Where tourism in Bali is, this island is distinguished by a wonderful, vibrant atmosphere, where the tropical air is filled with the scents of incense and clove oil, and stalls selling roasted peanuts and amazing souvenirs are dotted on both sides of the road, and classic gamelan music mixes with the sound of fast motorcycles.
Despite the hustle and bustle that characterize the main tourist attractions in Bali, the island is distinguished by its beautiful nature and includes various attractions, attractions and attractions. Tourists from all over the world come to enjoy surfing, climb the tall volcanic peaks, admire amazing waterfalls, and ride bikes in open natural areas filled with rice terraces and traditional villages.
The island also enjoys a rich cultural and artistic scene, in addition to the many shopping options, world-renowned spa treatments and reasonable prices. As for the spiritual side in Bali, speak without embarrassment, as the island is famous for its amazing temples and sacred Hindu ceremonies.
And since the film based on the famous book Eat, Pray, Love shed light on this charming island, tourists began to flock to Bali to enjoy its most important sights. In this article, we will review the most important tourist attractions on the beautiful island of Bali.
The most important tourist attractions on the Indonesian island of Bali
1- Pura Tanah Lot Temple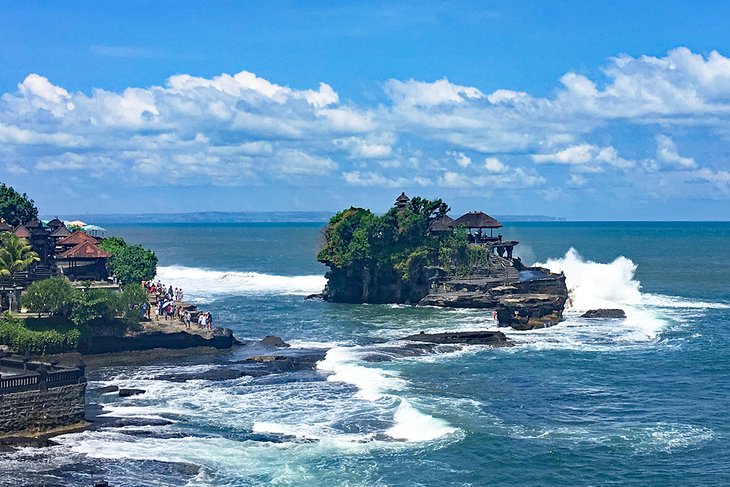 Pura Tanah Lot Temple is located 20 km northwest of Kuta. It is one of the most famous temples in Bali, and is distinguished by its wonderful location on a beautiful rocky island. This famous temple is also considered one of the most sacred coastal temples for the people of the island of Bali after the Pura Besakih temple. Every evening, crowds of tourists from Kuta, Legian and Sanur come through the neighborhoods packed with souvenir sellers to enjoy the sunset behind the temple.
The Pura Tanah Lot Temple was built at the beginning of the 16th century when the priest Nirarta asked the local fishermen to build a temple at this place. Although foreigners cannot enter any of the temples, you can walk around this famous temple, take pictures and enjoy the wonderful atmosphere. There are also many restaurants and cafes located on the heights, where you can enjoy the famous "Kopi Luwak" civet coffee. You can start from Pura Tanah Lot Temple through paths of stunning tropical beauty until you reach the seaside temple of Batu Bolong, which is located on a rocky outcrop and has an eroded bridge connecting it to the beach. When visiting any of the Balinese temples, be sure to dress modestly.
---
2- Mount Batur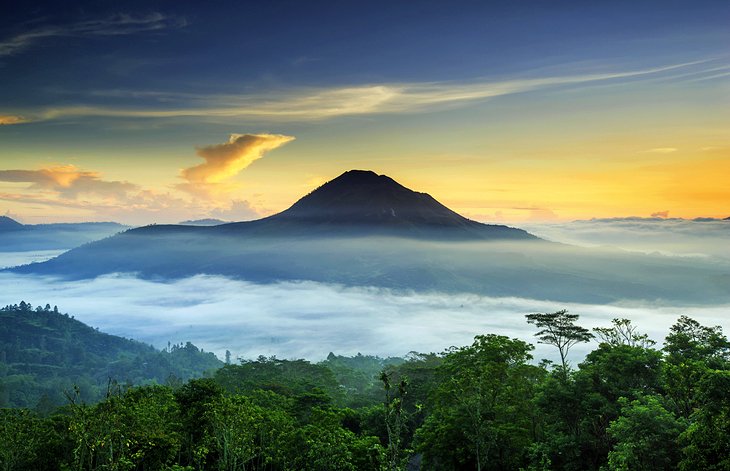 Hundreds of tourists climb the 1,700-meter peak of Mount Batur just before dawn to watch the sun rise over the mist-shrouded mountains and volcanic lakes below. This active volcano is located in the Kintamani region in the middle of Bali, about an hour's drive from Ubud.
There are guided tours to climb the mountain through paved paths, and the ascent usually takes about two or three hours, and the tour includes a breakfast that includes steamed eggs rising from the volcano. And when the weather is clear, you can enjoy stunning views of the surrounding mountain ranges and volcanic lakes, especially Lake Batur, which is the main source of irrigation water on the island.
You should prepare well for this exciting trip. You must wear suitable walking shoes and heavy clothes, given that the weather is cold before sunrise. You can also visit the Pura Ulun Danu Bator temple, which is located on the northwestern shore of the lake, in addition to enjoying the hot water of the therapeutic springs located in the beautiful village of Toya Bungka, which is located on the banks of Lake Batur.
---
3- Uluwatu Temple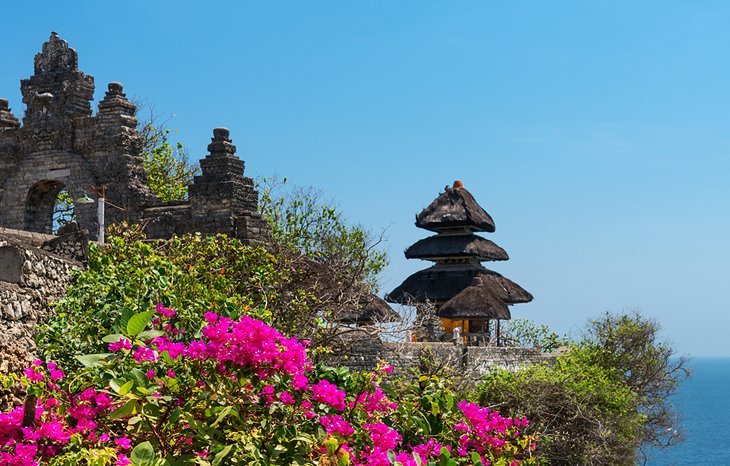 Uluwatu Temple is one of the most famous temples on the Indonesian island of Bali thanks to its wonderful location on the rocky cliffs of the Bukit Peninsula, and it is located at a distance of 25 km from Kuta. Tourists prefer to visit this famous temple at sunset to enjoy watching the sky and the sea sparkling in the evening light.
Archaeological finds indicate that this temple dates back to the 10th century AD, legends suggest that the temple protects Bali from evil sea spirits, while the monkeys that inhabit the jungle near the entrance to the temple are believed to guard it (keep your belongings away from these naughty monkeys).
There are several scenic paths extending from the entrance to the temple all the way. Only Hindu devotees are allowed to enter the temple, but you can enjoy the beautiful atmosphere and Kekak dance performances at sunset every day.
4- Ubud Monkey Forest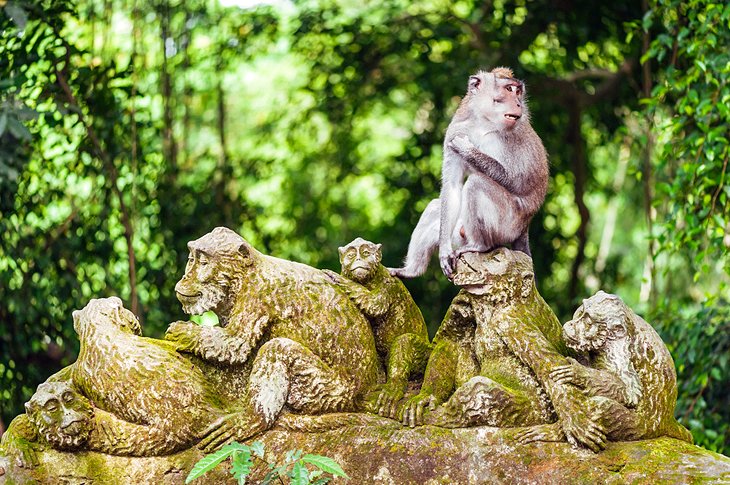 Monkey Forest, also known as the Sacred Monkey Forest Sanctuary, is located just a 10-minute walk south of Ubud city center in Bali and is one of the most important tourist attractions in Ubud. In this sprawling natural forest, gray long-tailed macaques roam freely. In the forest, there are many paved paths winding through dense forests of giant banyan and nutmeg trees, where moss-covered statues and ancient temples give a wonderful sense of solemnity and sacredness to the place.
The forest is an ideal embodiment of the harmonious coexistence between humans and animals, and the forest also includes a group of rare plants. In the southwestern part of the forest, there is the Pura Dalim Agung Padangtegal temple, which dates back to the fourteenth century AD, where hundreds of monkeys are scattered in the trees and above the walls of the temple. In the northwest part of the forest lies the ancient bathing temple of Pura Begi, near a cool stream. While visiting the forest, make sure to secure your personal belongings, and avoid direct eye contact with animals, as this can be interpreted as aggressive behaviour. It is best not to bring any food into the area.
---
5- Art and culture in Ubud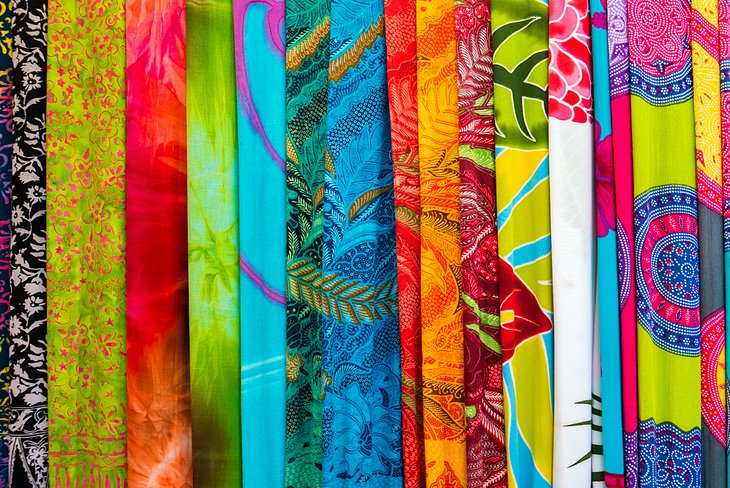 Ubud is an important center of art and culture in Bali, made famous by the movie based on the famous book Eat, Pray, Love. The city of Ubud witnessed the birth of the modern art movement in Bali, amid royal palaces and ancient temples. The city contains many museums and art galleries, which are famous for displaying many collections and artifacts in classic buildings amid beautiful tropical gardens.
If you want to learn about the history of art in Bali, you should start your trip with the Agung Rai Museum of Art and the Neka Art Museum, which are located within walking distance from the Ubud Monkey Forest. In these two museums, there are collections of classic and contemporary artworks, including daggers, pictures, and famous puppet paintings. There is also the Setia Dharma House of Masks & Puppets, which has an impressive collection of Asian ceremonial masks, the Puri Lukisan Museum and the Don Antonio Blanco Museum.
Or if you are a fan of buying antiques and works of art, be sure to visit the Ubud Art Market, where there are stalls that abound with carvings, statues, jewelry, gowns, paintings and household items. And be sure to haggle over prices while keeping a nice smile.
In front of the market, there is the Puri Saren Royal Ubud Palace, where you can attend a classical dance show in the evening with your family. You can also participate in an art workshop in a local village to learn drawing and making masks and jewelry, which are interesting activities for everyone, especially children.
---
6- Tegallalang and Jatiluwih Rice Terraces in Bali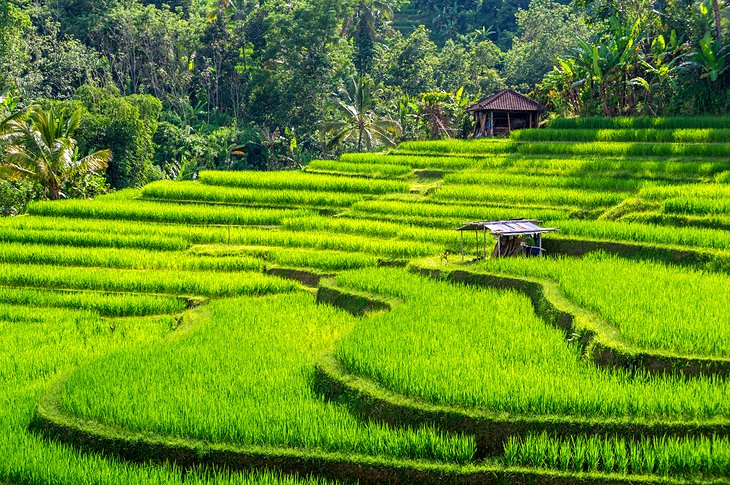 If you want to take pictures of the emerald-colored rice terraces of Bali, you must visit the rice terraces of Tagalalang and Gateluyeh. A 30-minute drive north of Ubud, the Tagalalang Rice Terraces is an area of ​​unsurpassed natural beauty. The best way to enjoy stunning views of these fields is to sit in one of the restaurants or cafes that are abundant in this area. It should be noted that local residents are asking for donations, entrance fees and parking.
About a 90-minute drive from Ubud, the more than 600 hectares of Gatiluwih rice terraces stretch along the foothills of the Batokaro mountain range. In this area, you will enjoy walking around and exploring nature without being disturbed. In both areas, the "Subak" irrigation system is used, which is an irrigation system recognized by UNESCO and dates back to the ninth century AD.
---
7- Pura Ulun Danu Bratan Temples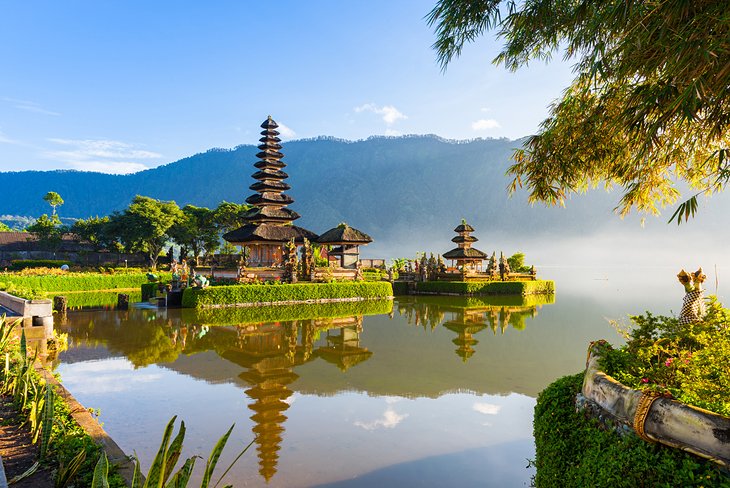 The temples of Pura Ulan Danu Bratan, dating back to the seventeenth century AD, are located on a small island along the western shore of Lake Bratan, and it is considered one of the most beautiful temples on the Indonesian island of Bali, where the image of the temples is reflected on the page of the lake water, and when the water level rises, the temples look like float on the surface of the water.
Lake Bratan is one of the main sources of irrigation and drinking water in Bali, and these temples are dedicated to the deities of the sea and lakes. At the entrance to the first courtyard, there are stupas and statues of Buddha, which reflect the belief of the people of Bali in Buddhist beliefs. It is preferable to visit these sacred Hindu temples in the early morning, before the arrival of the tourist groups. You can also rent a canoe and row across the lake to explore the thatched shrines at close range. And near these temples, there is the Bali Botanical Garden, which includes beautiful bamboo forests, orchids and medicinal plants, in addition to the Bali Treetop Adventure Park, which offers many interesting activities for children.
Address: Jalan Bedugul – Singaraja, Candikuning, Baturiti, Kabupaten Tabanan
---
8- Shopping in Seminyak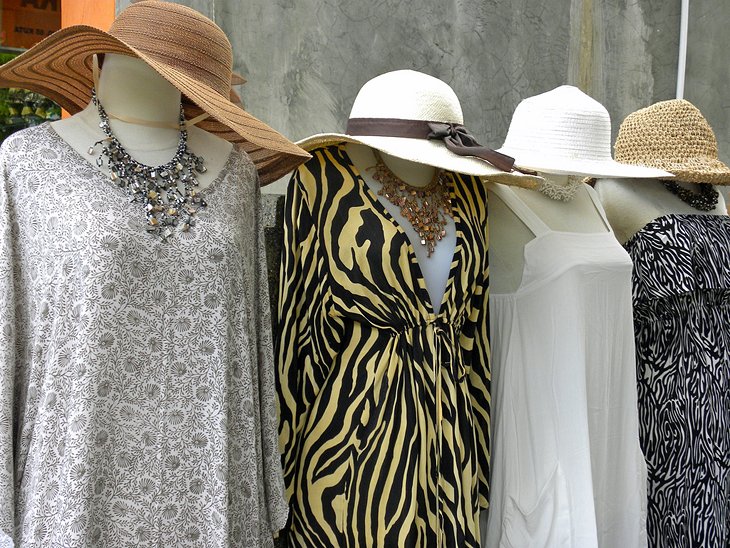 Bali is famous for its unique shopping experiences, located in the streets of Seminyak, which are crowded with elegant stores selling fashion, swimwear, jewelry, furniture, household items and other things. There are many popular stores, including Biasa, Magali Pascal, Bamboo Blonde, Kody & Ko, Sea Gypsy and Drifter Surf Shop & Cafe.
Although there are two large shopping centers Seminyak Square and Seminyak Village, you can find a lot of amazing deals in the small shops dotting the streets. You can also find affordable clothing, jewelry and sculptures at the Seminyak Flea Markets. Seminyak also has some of the best restaurants and art galleries in Bali.
---
9- Nusa Dua Beach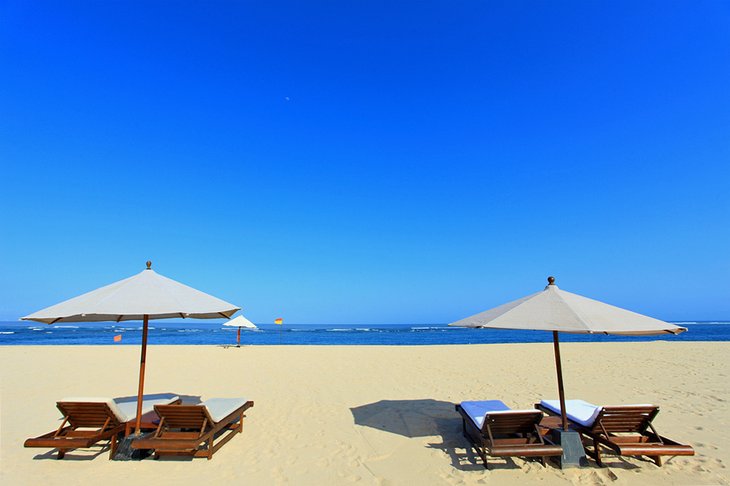 Are you looking for a quiet getaway from the bustling life on the streets of Bali? Nusa Dua Beach is your ideal destination, where you can unwind, relax and enjoy a refreshing drink under the golden sun on the white sands. One of Bali's best beaches, it is a luxury resort located on a private peninsula. There is a group of the most luxurious Bali resorts spread along this beach and is characterized by an exceptional level of service, in addition to the many activities that you can enjoy, including hiking, swimming, windsurfing, parasailing and sunbathing. However, you must pay a fee or eat a meal at any of the resorts to be able to use the beach chairs.
And when you want to get some pampering, you can enjoy the best spa treatments at the luxurious spa centers located in the resorts, and you can also enjoy shopping at the Bali Collection, an open-air shopping mall. There are paved hiking trails connecting the resorts.
---
10- Nusa Islands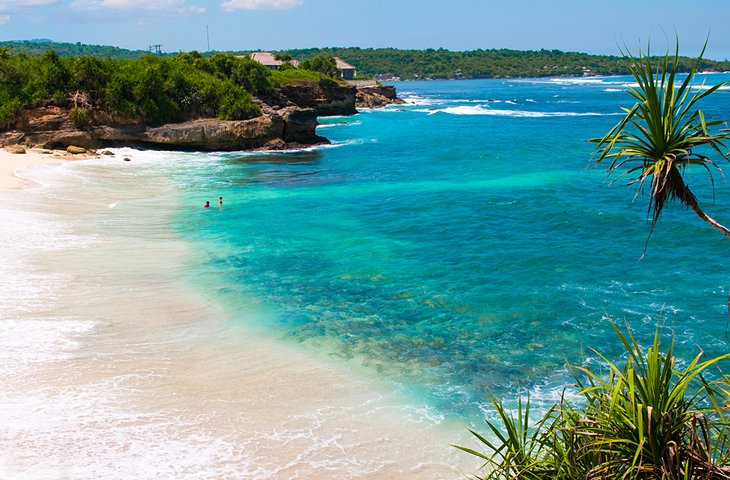 If you want to enjoy peace away from the hustle and bustle of traffic, then the Noosa Islands is your ideal destination. The island of Nusa Lembongan is the most famous of these three islands, and it is located at a distance of 20 km from the Yanur area, and it can be reached by speed boats. On this beautiful island, you can enjoy surfing, snorkeling, diving, paddle boarding and stand-up paddle boarding. The island includes Dream Beach, Mushroom Bay and the Devil's Tears rocky outcrop, which offers stunning views of the waves crashing against the rocks. Many locals still make a living growing seaweed, and you can watch them harvesting it on the beach.
Nusa Ceningan is located within walking distance of Nusa Lembongan and is distinguished by its beautiful blue waters. Nusa Penida is the largest of these islands and is a short boat ride away. This island is characterized by amazing rock formations, caves and bird nests, and diving is one of the most important activities that you can do on this island, where you can enjoy watching manta rays, sunfish and turtles. Don't miss Kelinking Beach, otherwise known as T-Rex Bay, to enjoy relaxing on its golden sands.
There are various accommodation options, including rustic bungalows and luxury villas.
---
11- Kuta Beach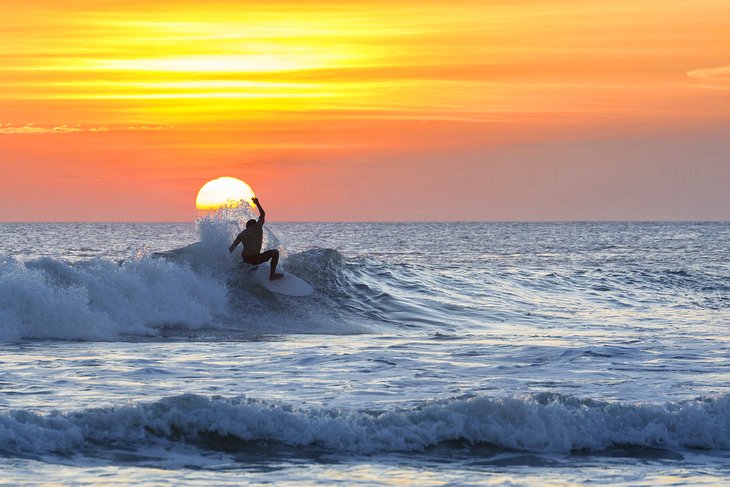 Kuta Beach is a crowded beach, but it is one of the most important tourist places in Bali, especially if you want to enjoy the beautiful scenery or want to learn to surf. This beach is located close to Legian Beach and Seminyak Beach. You can sign up for surfing lessons and rent surfboards, surfboards, beach chairs and umbrellas directly from designated spots on the beach. There are also plenty of cafes and restaurants on the beach. Enjoying an iced coconut drink while lying on the beach on a hot day is an amazing experience. For more peace, you can visit Sanur, Jimbaran Beach or Nusa Dua. Surfing enthusiasts can visit Dreamland, Changu, Balangan, Bingin and Padang Padang beaches.
---
12- Sidemen Valley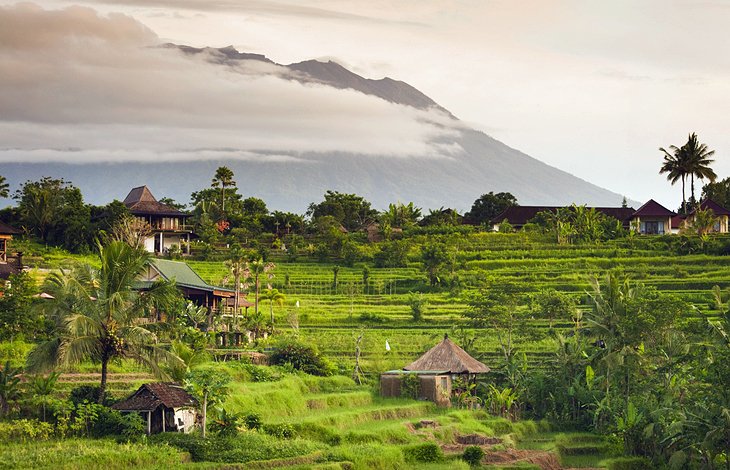 Sidemen Valley, a 90-minute drive northeast of Ubud, reflects ancient Bali before the tourist crowds flocked to the island. This emerald valley is home to many villages nestled among the rice terraces, while the peak of Mount Agung looms in the background. In this valley, you can enjoy wandering among small villages surrounded by farmland and rice fields, where the locals still practice their traditional activities. You can also walk through the countryside and cocoa and coffee plantations until you reach the top of Mount Agung. Activities in this valley include boating in the rivers, practicing yoga and participating in various cultural activities, such as dancing, carving or traditional weaving. Accommodation options include traditional homes and bed and breakfasts, and there are also luxury villas overlooking the rice fields.
---
13- Sekumpul Waterfall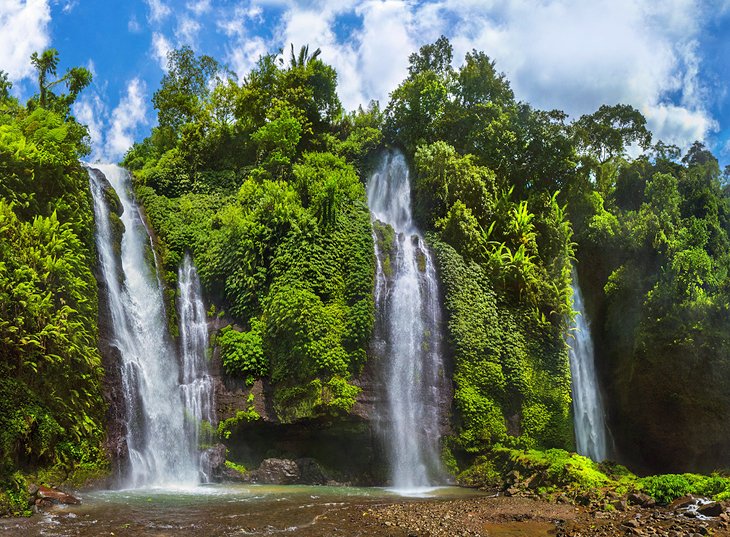 Sekumpul Waterfall is located 66 km north of Ubud, and it is considered the most beautiful waterfalls in Bali. It is actually a series of about seven waterfalls descending from a rocky hill covered with trees and plants. Note that if you choose to drive yourself, locals may try to stop you and demand exorbitant entrance fees, so it is best to hire a local tour guide who knows how to negotiate roadblocks and get you on the right track to the falls.
The trek takes three to four hours, going back and forth through rice terraces and local villages full of rambutans and durian trees, and continuing through dense tropical jungle. Sometimes you will need to walk down slippery steps and across the river, but once you reach your destination, you can relax and swim down the falls.
It is a great adventure for nature lovers who want to discover Bali away from the tourist resorts.
---
14- Tirta Empul Temple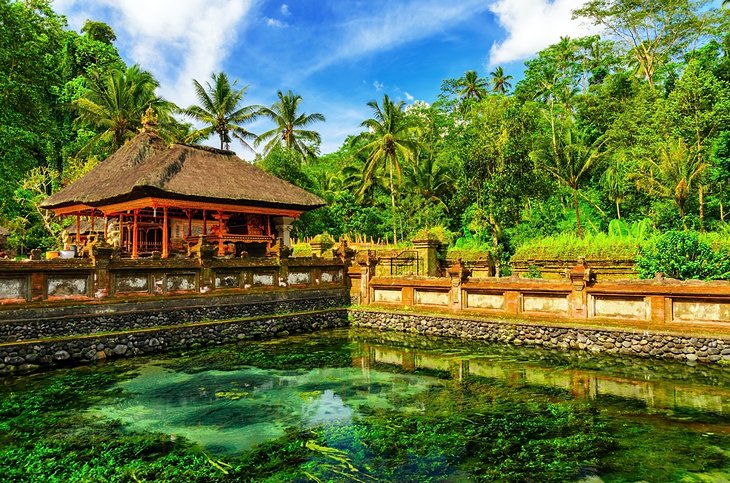 This temple was built around the year 960 AD in the lush tropical jungle in central Bali. The temple complex, which is a national cultural heritage site, is divided into three courtyards, with the focal point being the large rectangular pond supplied by a sacred mountain spring. Locals come to this pond to pray and bathe in its healing waters that flow from a series of nozzles. And if you want to discover a unique experience full of spirituality, you should consult a local guide first to make sure that you respect the customs and traditions of the local people. You must visit the temple complex first because you are not allowed to enter while wet. When you go down into the lake water, you must wear a cloak and a scarf. The best times to visit the temple are early morning or sunset to avoid crowds.
---
15- Waterbom Bali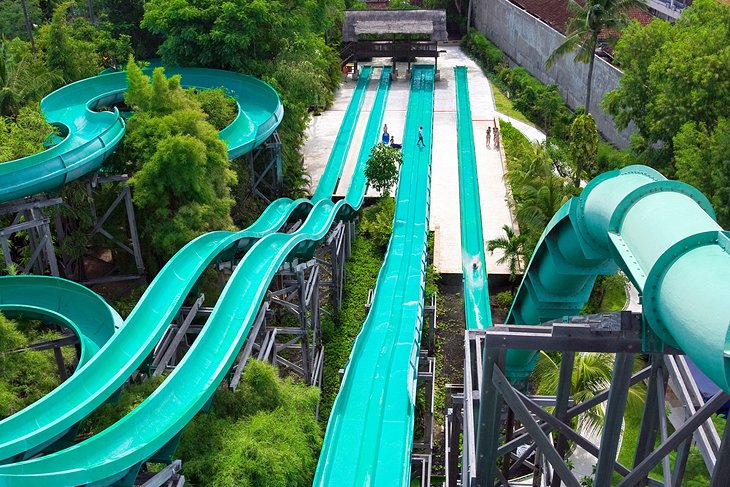 Waterbom Bali is a water park located in the heart of the Kuta tourist area, and it offers activities full of fun, excitement and movement that satisfy all tastes. Children can enjoy various water games that include swimming and skiing on the water slides, which have attractive names such as Python, Green Viper and Super Bowl. Parents can also relax and enjoy spa treatments, manicures and pedicures. There are many restaurants in the park that offer a variety of menus. The garden is surrounded by lush trees and beautiful tropical gardens that protect the garden from the high heat.
And if you want to enjoy skateboarding or surfing in a safe environment, Bali Wake Park is your ideal destination.
---
The best cheap, medium and luxury hotels in Bali, Indonesia
Luxury Hotels:

 Four Seasons Resort Bali is located in Jimbaran Bay, overlooking a stunning white sandy beach. 

The hotel features traditional Balinese villas with up to 4 bedrooms. 

The villas have a private pool, garden and outdoor shower. 

The hotel offers its guests art lessons in the children's club. 

Boasting exquisite villas, Kayon Resort by Pramana is a peaceful romantic getaway amidst the woods, a 10-minute drive from Ubud. 

The hotel offers its guests an amazing breakfast experience on a floating table. 

There is also The Legian Bali, a luxury hotel overlooking Seminyak Beach, which is characterized by stunning views, an exceptional level of service, and serves delicious food and distinguished tea.
Mid-Range Hotels:

 In the heart of Seminyak, Uma Sapna Hotel features elegant villas and private pools. 

The hotel also offers guests private hot tubs, iPod docking stations and premium TV packages. 

There is also an art gallery displaying local artwork. 

Guests can also enjoy amazing spa treatments. 

Within walking distance from Ubud city center is the adult-only Adiwana Bee House, nestled among green rice fields and featuring villas built from natural materials such as wood and stone. 

The hotel features stunning views of the water pond and rice fields. 

Ini Hotel is located in Ini Vie Villa in Legian and features Balinese-style villas with one or two bedrooms, which are suitable for newlyweds and families, and the villas have private swimming pools and jacuzzis. 

The hotel provides free delivery service to Kuta area.
Cheap Hotels:

 Within walking distance of Kuta Beach, Hotel Terrace at Kuta offers comfortable and elegant rooms, as well as a central pool surrounded by plumeria trees. 

Within walking distance of the Tanah Lot Temple, Natya Hotel Tanah Lot is located, which is distinguished by its spacious, elegant rooms and reasonable prices. The hotel also includes a swimming pool in tropical gardens. 

Within walking distance of the beach, Vansari Hotel Seminyak features air-conditioned rooms, comfortable beds, a swimming pool and sun loungers. 

The hotel is characterized by good service, and prices include breakfast in a nearby cafe.
---
Tips for tourists traveling to Bali for the first time
Before you travel to the tropical island of Bali, you should read these following lines, which contain the most important information that may answer your questions related to this wonderful destination full of temples, forests, and other beautiful tourist attractions. It helps to know phone numbers, weather conditions, and public holiday dates to avoid the typical travel headaches. This article is divided into a group of sections, under each of which there are a number of useful tips that you can benefit from in enjoying the discovery of an exceptional experience in Bali.
Travel to the island of Bali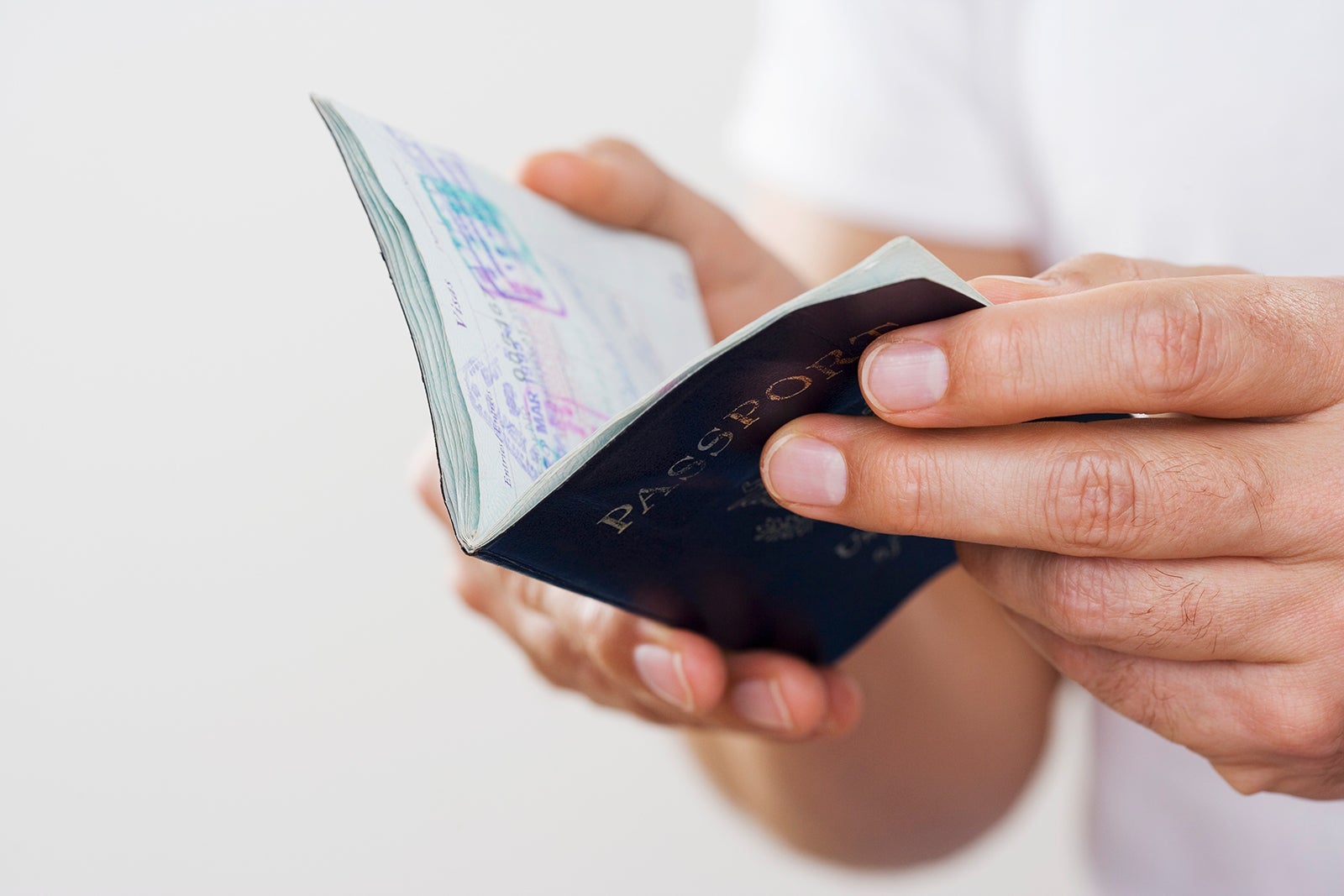 1- The visa
Citizens of 169 countries can visit Bali for up to 30 days without obtaining a visa. A one-time extendable visa-on-arrival can be obtained for a fee.
2- The weather
Rainy season: from October to April
Dry season: from May to September
Best times to visit: from May to August
3- Special holidays
Avoid visiting Bali during Saka New Year's Day of Silence (according to the lunar calendar, but mostly in March) when most sound activities stop.
Touring the island of Bali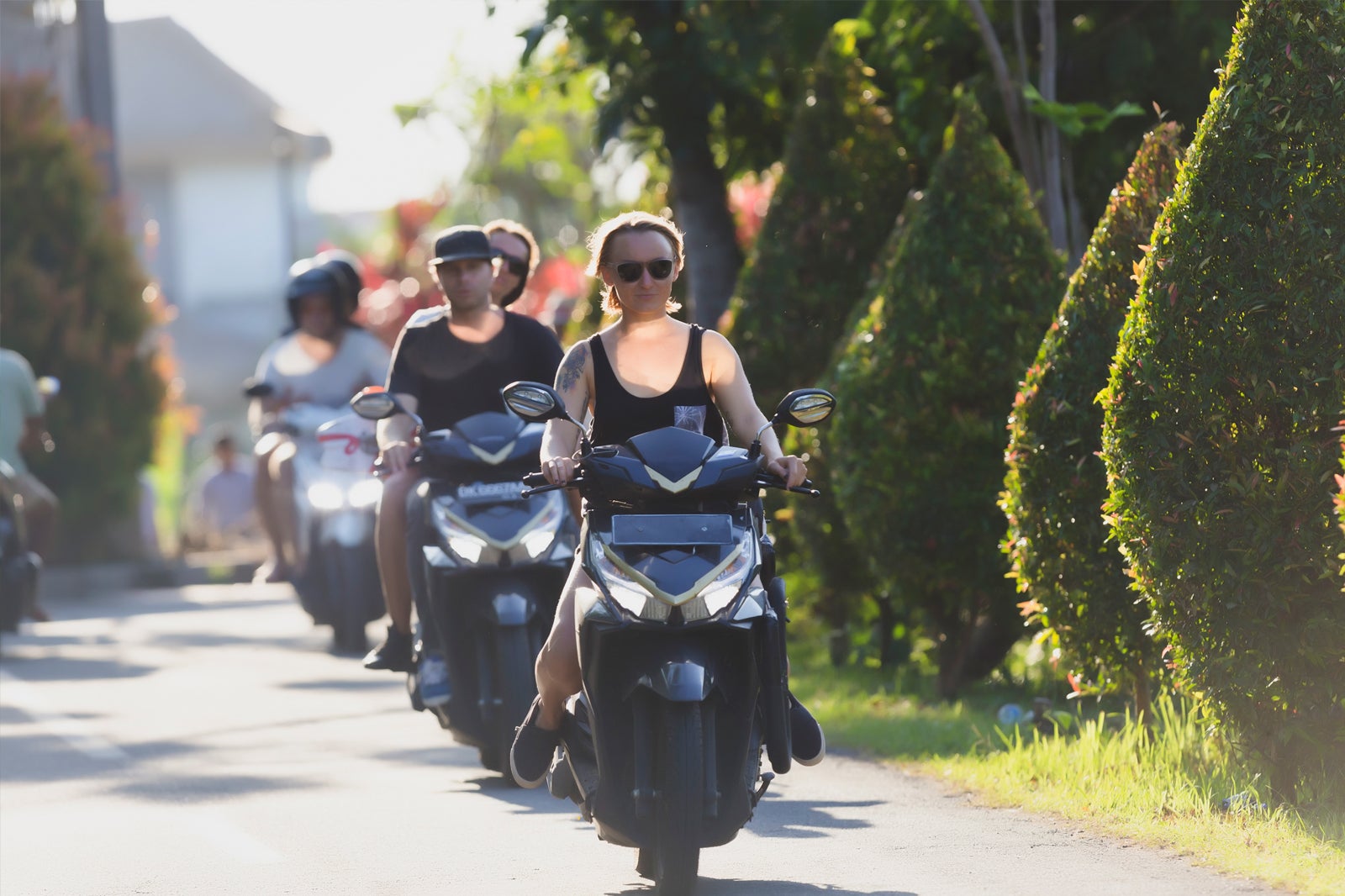 4- Driving cars and motorcycles
Make sure to drive your car or motorcycle on the left side of the road
5- Car rental
An international driving license is required in order to rent cars or motorbikes in Bali.
6- Taxis
Blue Bird Taxi (+62 (0)361 701 111) is a popular and reliable metered taxi service.
7- Traffic
Bali suffers from heavy traffic, so be sure to keep that in mind if you want to catch a date.
8- Albimo cars
Bemo cars are the means of transportation used by the local population for short distances, and their prices are not specified, but they are cheaper than other means of transportation.
coins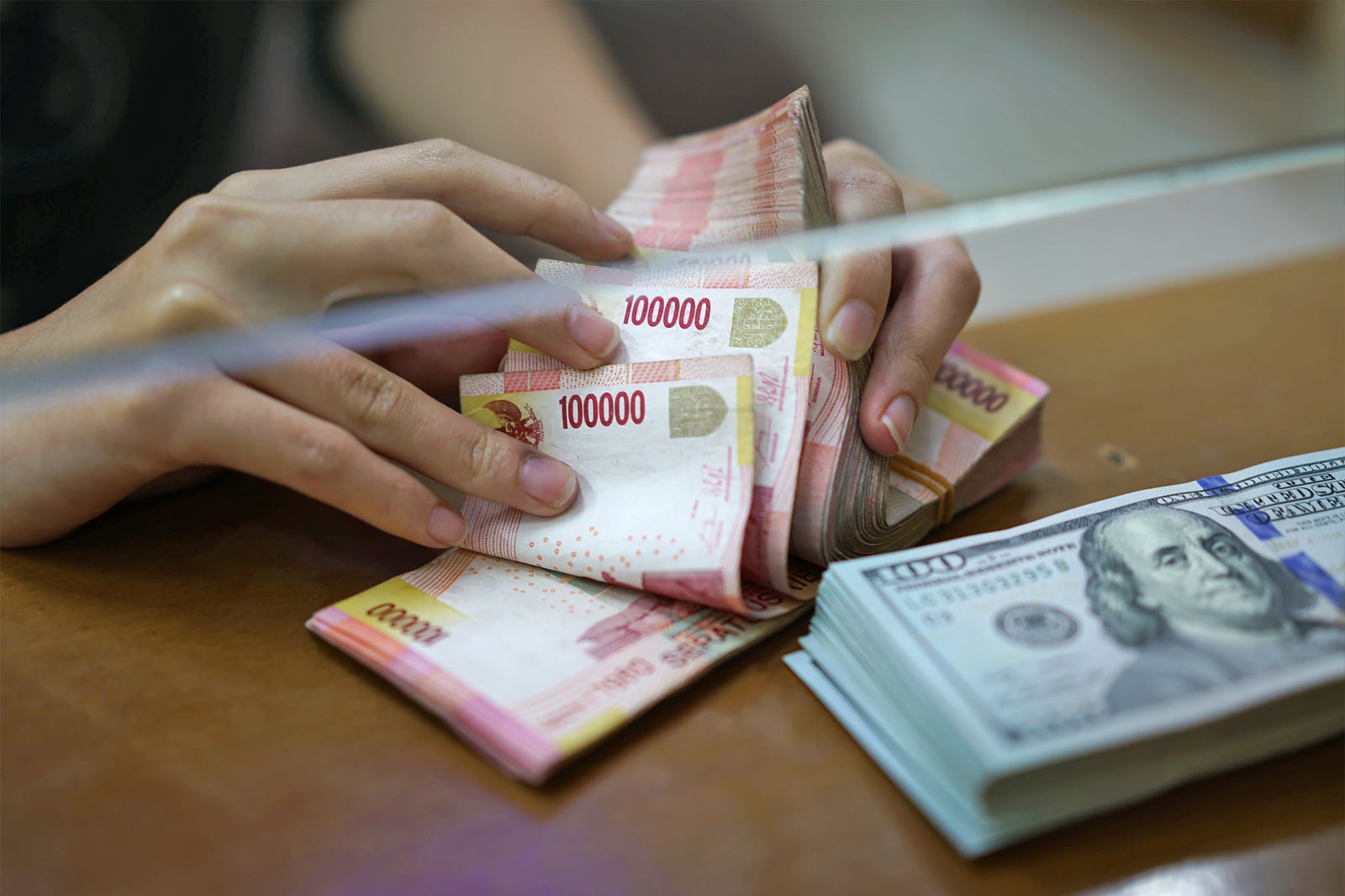 9- Currency
1 USD = IDR 16,340 (rates may vary)
10- Automated teller machines
Automated teller machines accept amounts ranging from 50,000 to 100,000 rupees. And if you use credit cards from foreign banks, Visa or MasterCard, the exchange fees are high. Watch out for thieves and counterfeit coins. And don't forget to take cash and the card from the ATM after every transaction.
11- Changing the currency
The best place to change currency is banks. If you must use the currency exchange booths, be sure to count the money well before you leave.
12- Bargaining
You can bargain and reduce prices in most of the shops and markets in Bali. Often, the products offered in shopping centers and supermarkets have fixed prices, except for the periods of offers.
13- Gratuities
Gratuities are not compulsory as rates include 10% government taxes and a service charge of up to 11%. And you can tip 5-10% of the bill if you want.
---
means of communication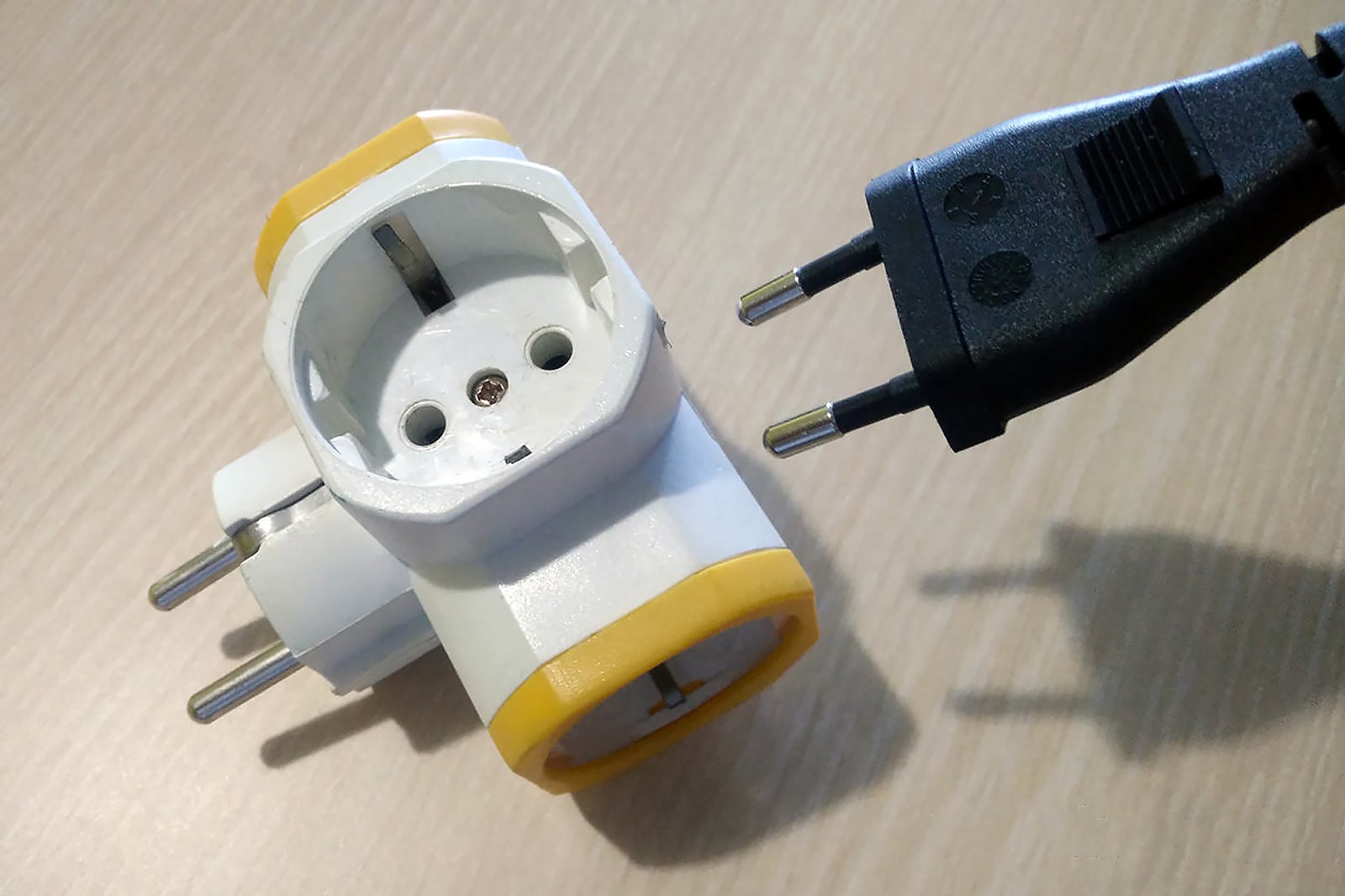 14- A mobile SIM card
SIM cards are available at kiosks and stores, but be sure to choose the appropriate SIM for your phone when purchasing.
15- Electricity
220 volts, 50 Hz. Two European sockets are used.
Dress code and etiquette
16- Temples
Museums are usually open free to the public, but there is a donation box at the entrance to the temple. While visiting the temples, a gown and scarf are required, which can be rented for IDR 10,000. And be careful not to use your left hand as it is considered impolite behaviour.
---
Stay safe in Bali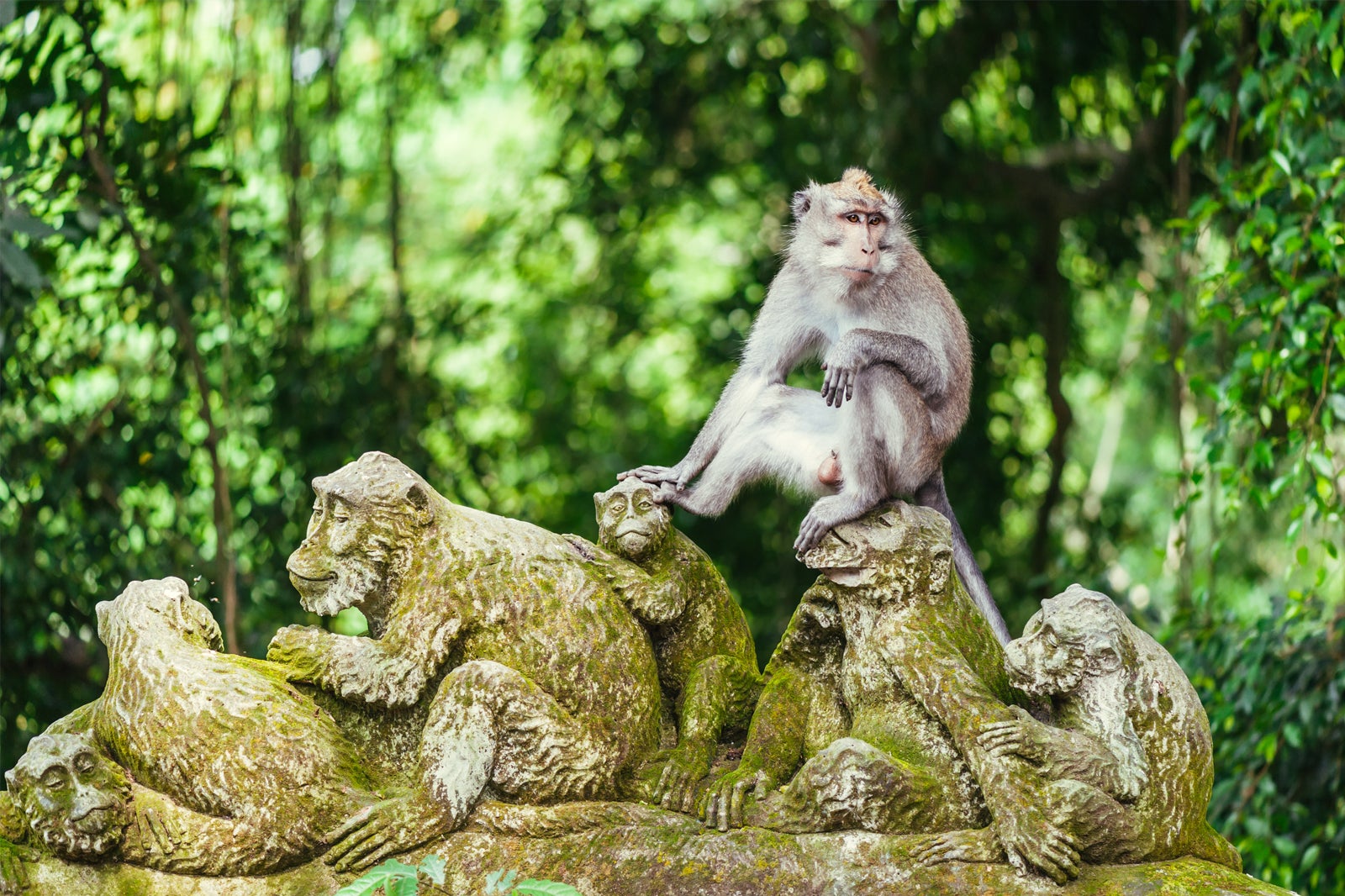 17- Water
Tap water cannot be drunk, but ice served in approved bars, restaurants and hotels may be used.
18- Drugs
The penalty for drug use is death.
19- Monkeys
When visiting the Monkey Forest, be careful not to wear too many accessories, and avoid getting close to wild monkeys as their behavior can often be unpredictable.
20- Emergency
In an emergency, call the police on 110 or the ambulance on 118.
The most popular cuisine that tourists should try when visiting the Indonesian island of Bali
The Indonesian island of Bali is famous for being a wonderful tropical tourist destination, and it is also famous for providing delicious food rich in distinctive flavors and spices. Although the cuisine on the island of Bali is dominated by the general character of Southeast Asian cuisine, the island of Bali is unique in providing delicious and unique dishes. In this article, we will review a list of the 10 most popular foods that you should try when visiting Bali.
1- Pisang Goreng
It is a delicious dessert made using fried bananas. Bali is famous for its variety of bananas. There are small bananas and another large one, each with a different flavor. Fried bananas are served plain or with honey or palm sugar syrup, coconut chips or vanilla ice cream.
---
2- Mie Goreng
A classic Indonesian dish of stir-fried noodles served with vegetables and your choice of chicken, shrimp or pork. Sometimes, it is served with fried eggs, chicken, shrimp chips, peanut sauce and pickles.
---
3- Nasi Goreng
This dish is similar to Mai Goreng, but rice is used, which is famous for its cultivation in Bali. instead of noodles. It is the most popular dish in Bali, and is served in all three meals in all restaurants and food stalls.
---
4- Sate
A variation on Malaysian satay, mashed chicken is mixed with a variety of spices and grilled on lemongrass sticks. Peanut sauce is not served with it unless it is mentioned in the menu. There is chicken satay and fish satay.
---
5- Babi Guling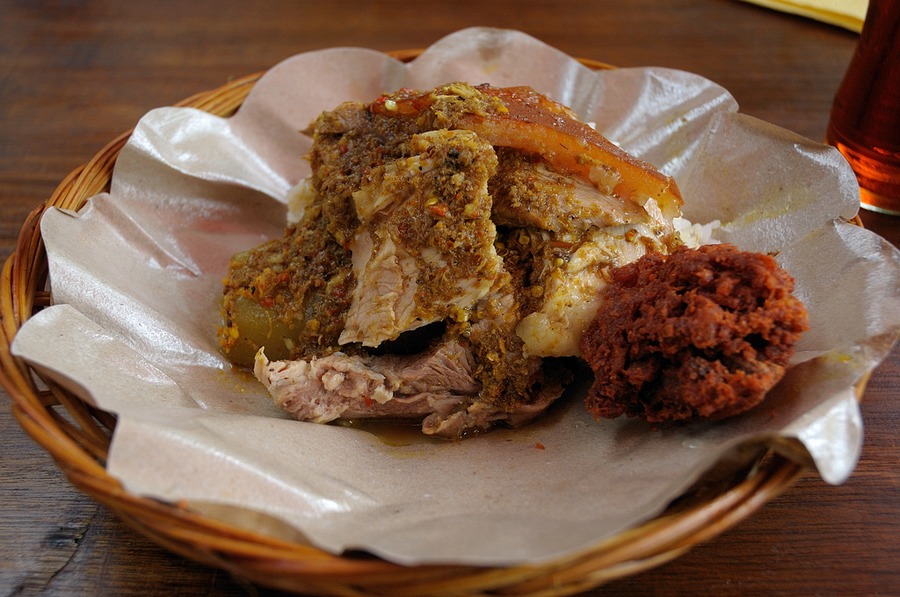 It is one of the most popular dishes in Bali. Pork is rubbed with turmeric, stuffed with spice paste (coriander seeds, lemongrass, lime leaves, chilies, black pepper, garlic, red shallots, ginger and galangal) and then grilled on coconut shells or wood chips until done. Choose your favorite cut of meat.
6- Nasi Campur
A mixed rice dish usually consisting of small portions of vegetables, fish or meat with steamed rice. There is no single combination of flavours, so you will always be surprised by the ingredients you will find in this delicious dish.
---
7- Bebek Betutu
Smoked duck is one of the most popular dishes in Bali. The duck is battered and stuffed with a mixture of spices, then wrapped in areca palm leaf or walnut bark and placed on smoked rice husks. It takes about 12 hours to cook this dish, so you must place your order at the restaurant 24 hours in advance.
---
8- Mini Rijsttafel rice table
An ancient meal since Dutch colonial times, it often includes a variety of Indonesian delicacies such as smoked duck, chicken, sambal, shrimp, chicken satay, pork, mixed vegetables, potato croquettes, tofu, tempeh and rice cones.
---
9- Spring Rolls
Everyone loves crispy spring rolls stuffed with mixed vegetables and minced chicken, served with peanut sauce and sweet chili sauce.
---
10- Gado-Gado-Gado
This delicacy is one of the most popular Indonesian dishes, and it is a vegetable salad covered with peanut sauce, which is served cold and warm. This dish contains beans, spinach, potatoes, corn and boiled eggs with cucumber, tofu and tempeh.
You can try these delicacies everywhere, whether in budget restaurants, luxury restaurants, or five-star hotels. The most important thing about these dishes is that they are prepared using fresh local ingredients and handcrafted spices.
---
The 7 best halal restaurants on the Indonesian island of Bali
There are many halal restaurants in Bali that Muslim tourists can go to and enjoy great local dining experiences. These restaurants also attract many guests with special dietary needs, as they apply strict standards in selecting ingredients and in the way meals are prepared. Fresh seafood coming directly from the Indian Ocean is the most important dish that is served in halal restaurants in Bali, where you can enjoy eating a wide variety of fish, shrimp and squid that are grilled, wrapped in leaves or steamed, and served with rice and vegetables and chili sauce.
---
The following is a list of the best halal restaurants on the Indonesian island of Bali, which are accredited by the Indonesian Ulama Council, which is the highest Islamic body in Indonesia.
Raja's Balinese Cuisine at Nusa Dua Beach Hotel & Spa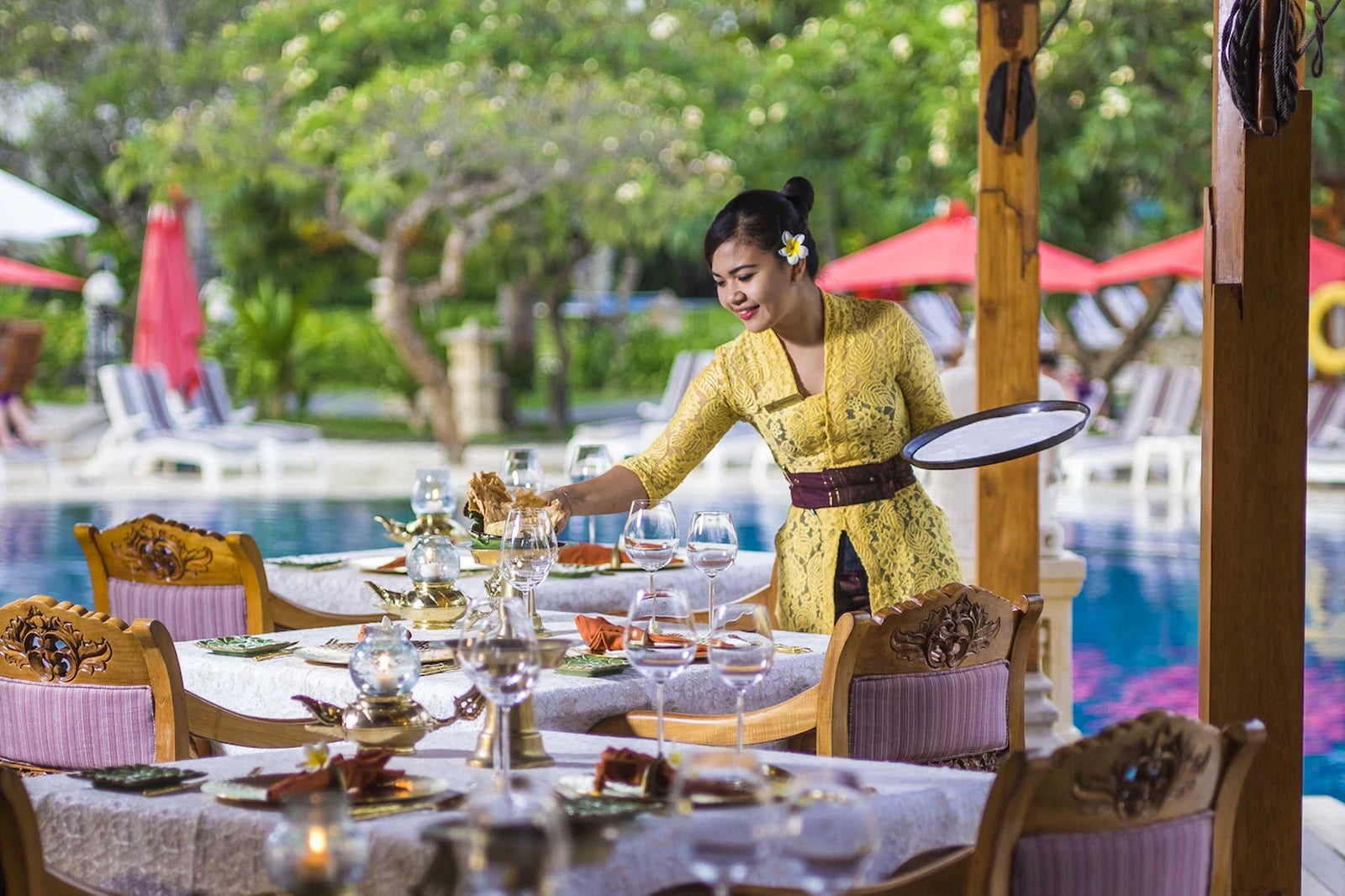 This restaurant serves the most delicious local cuisine in an atmosphere of exceptional luxury. The restaurant is well-lit and elegantly designed, with a Balinese theme. The restaurant offers an exceptional menu of 2- or 3-course meals. Main dishes include Bebek Betuto, which is a whole duck marinated using 16 kinds of Indonesian spices, and Grilled Chicken. There is also a range of made-to-order dishes, including nasi goreng (fried rice), oxtail soup and Balinese lobster in coconut curry sauce.
Address:

 Nusa Dua Beach Hotel & Spa, Nusa Dua, Badung, Bali 80363, Indonesia

Working hours:

 from Wednesday to Sunday, from 5:30 pm to 10:30 pm (the restaurant is closed on Mondays and Tuesdays)

Phone:

 +62 (0)361 771 210
---
2- Jimbaran seafood cafés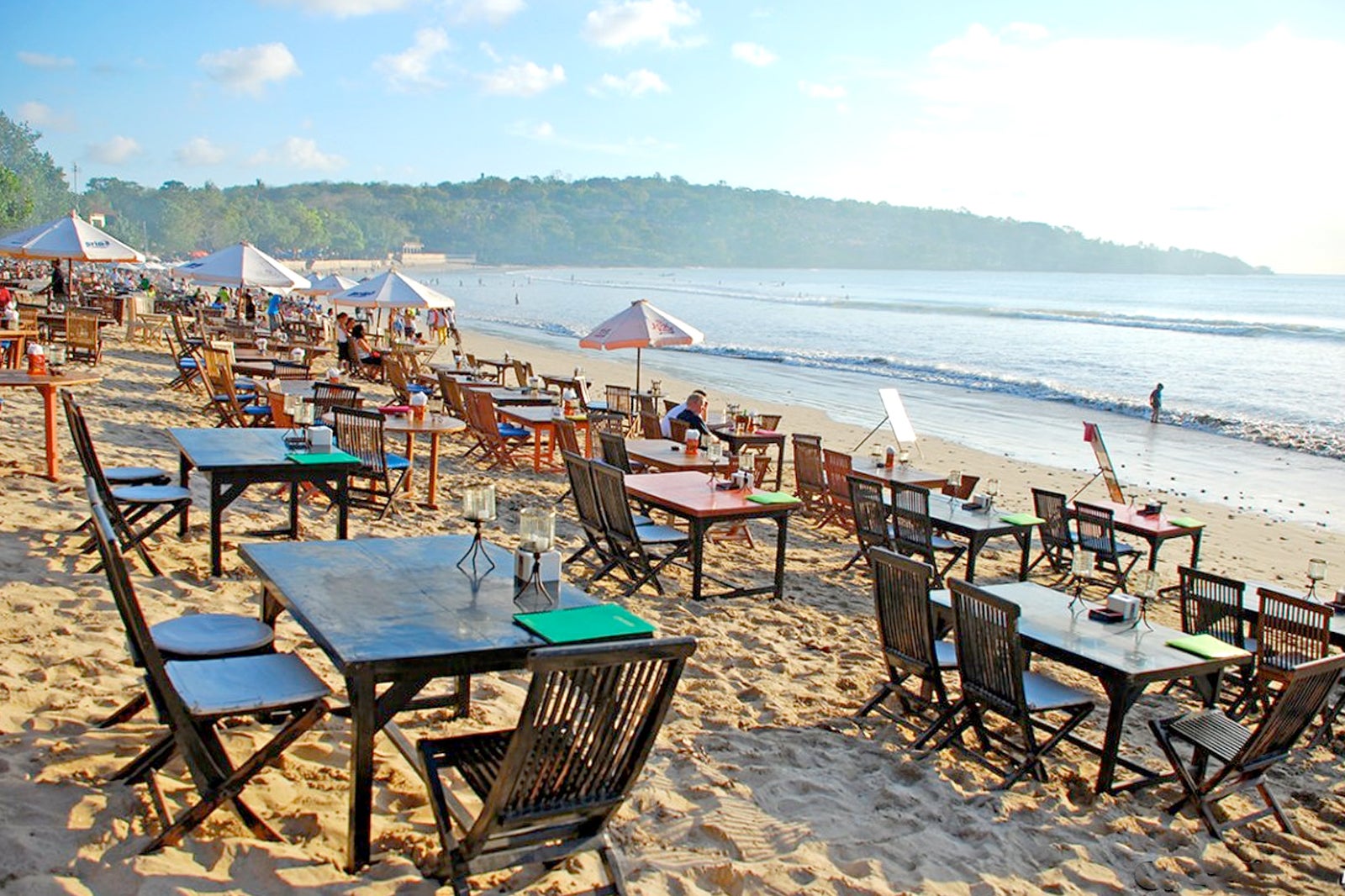 Set on the white sandy beach of Pantai Moaia, these cafes are famous for serving fresh seafood by candlelight at tables facing the beach. The dishes are usually served with rice, mixed vegetables and chili sauce. Visitors to these cafes enjoy stunning beach views of the dim lights of Ngurah Rai airport and the lamps on traditional fishing boats.
Address:

 Jalan Four Seasons, Muaya Beach, Jimbaran, Badung, Bali 80361, Indonesia

Working hours:

 daily, from 3 pm to 11 pm (times may vary)
---
3- Pondok Tempo Doeloe Restaurant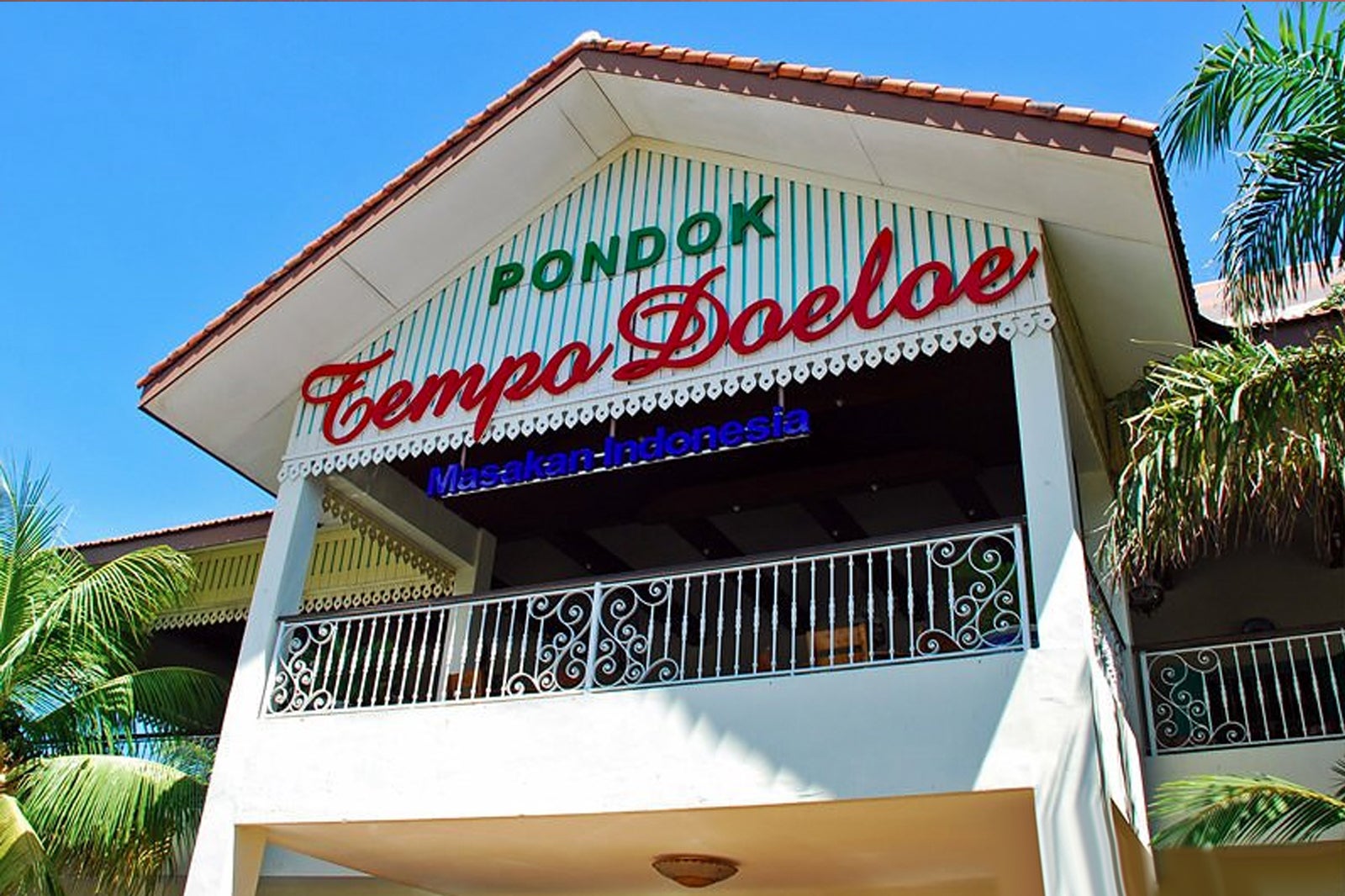 It is a restaurant for families located on the southern end of Sunset Road, and it is famous for serving halal Sudanese food. The restaurant offers a varied menu of freshwater fish and seafood dishes, including grilled fish and steamed tilapia with sweet and sour sauce, as well as spicy fish wrapped in banana leaves. Dishes are served with rice baskets and assorted vegetables.
Address:

 Jalan Sunset Road No.8, Kuta, Badung, Bali 80361, Indonesia

Working hours:

 daily, from 10:30 am to 10:30 pm

Phone:

 +62 (0)361 757 699
---
4- Ayam Bakar Wong Solo Restaurant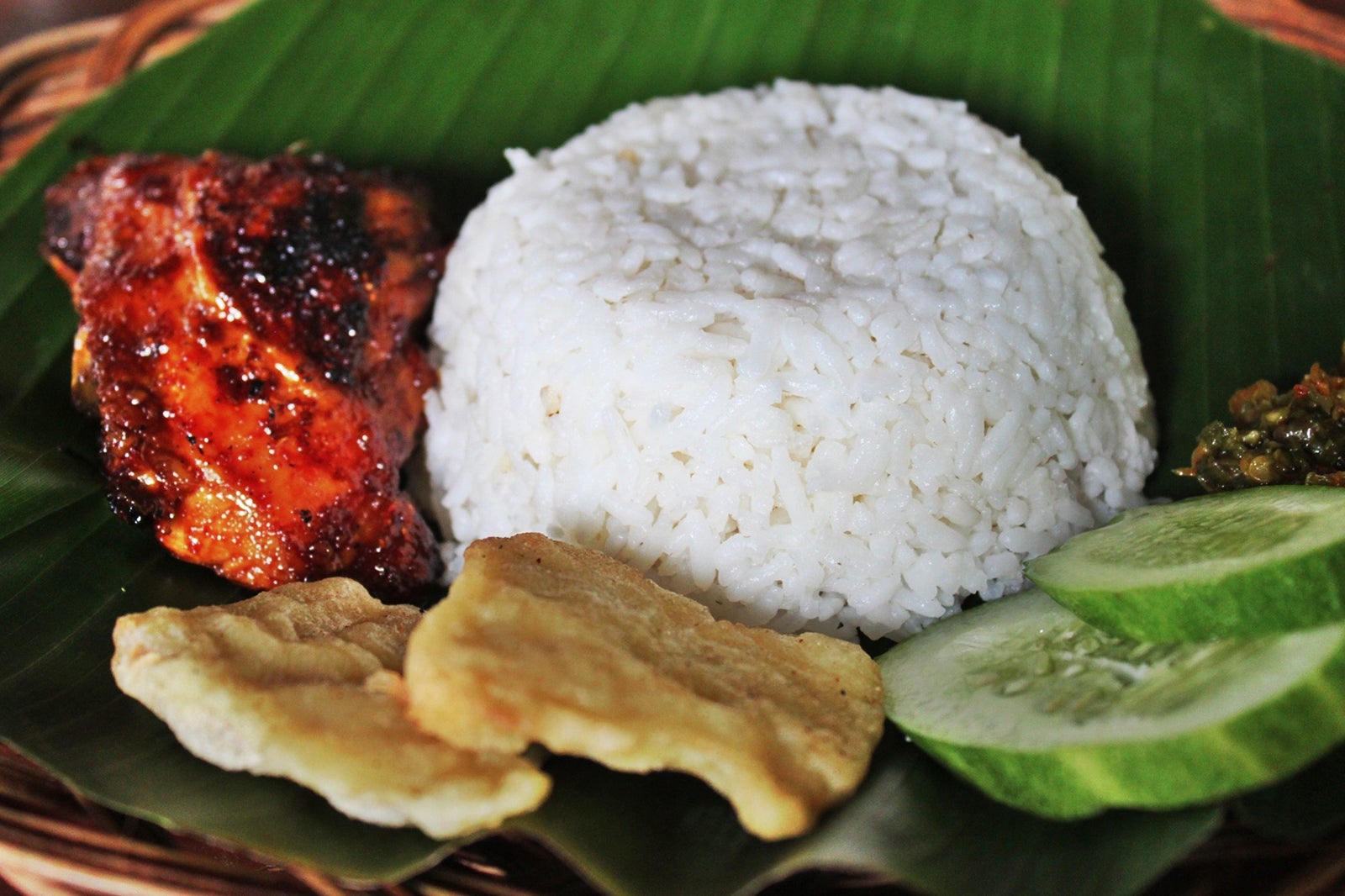 This restaurant is famous for serving grilled chicken dishes cooked in the style of Solo, a city located in the province of Central Java. The main dishes consist of meat, rice and vegetables, and there is also grilled chicken, fried chicken and grilled fish. Dishes are served with chili sauce, steamed white rice, grilled tofu, sliced ​​cucumber, fried eggplant and fresh basil.
Jalan Raya Kuta No. 87, Kuta, Bali 80361, Indonesia

Daily, from 9 am to 11 pm

+62 (0)361 763 487
---
5- Queen's Tandoor Restaurant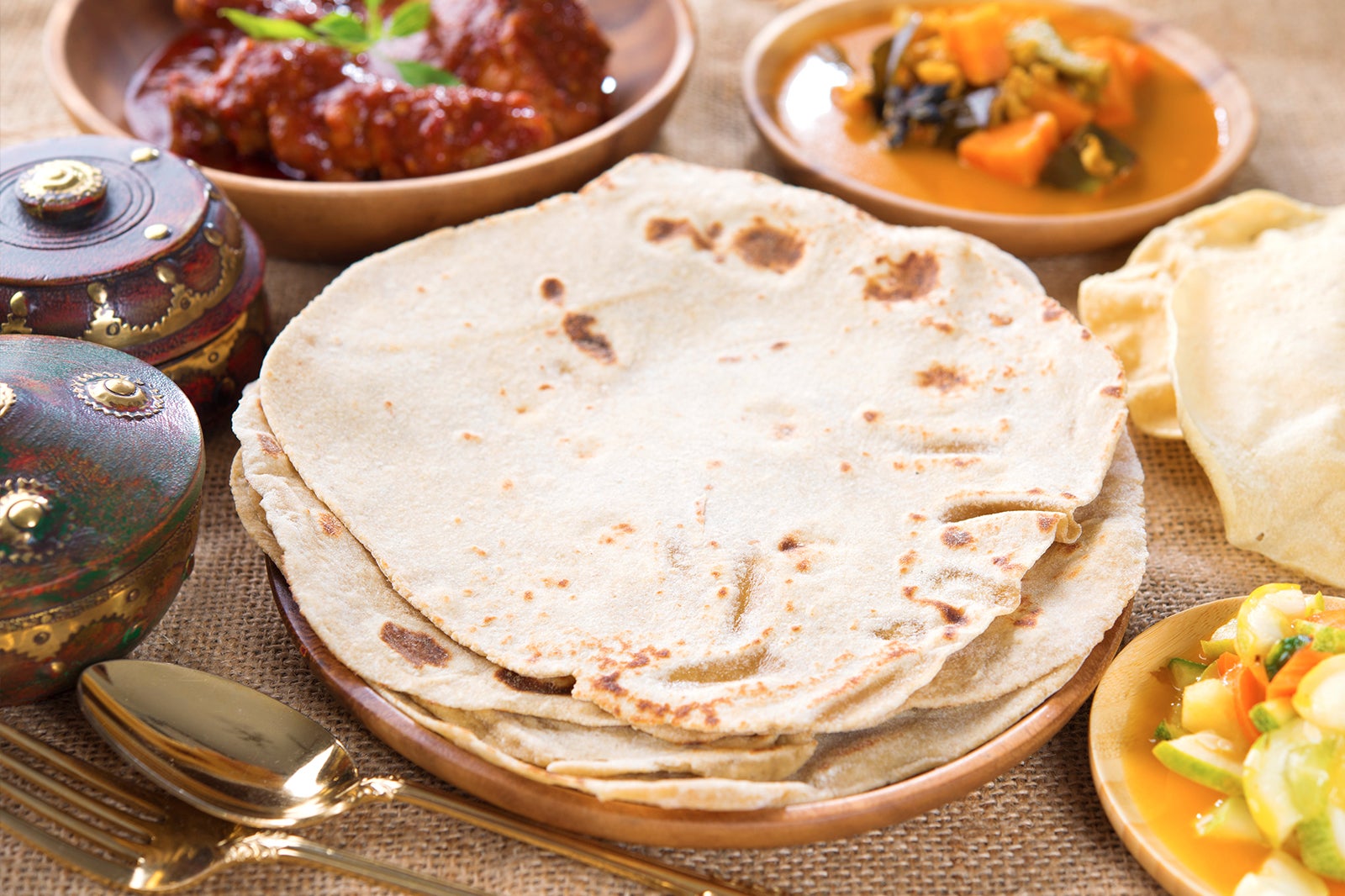 Queen's Tandoor Restaurant is famous for serving delicious Indian dishes in Seminyak, Kuta and Nusa Dua. The menu includes many vegetarian items, as well as meat and seafood. And don't forget to try the South Indian menu, which includes dosa, which is a crepe-like pancake, uttappam, tandoori chicken and mutton vindaloo.
Address:

 Jalan Raya Seminyak No.1/73, Seminyak, Badung, Bali 80361, Indonesia

Working hours:

 daily, from 12:00 noon to 11:30 pm

Phone:

 +62 (0)361 732 770
---
6- Bale Udang Mang Engking Restaurant
This restaurant is known for providing an exceptional dining experience in thatched pavilions floating in the waters of an artificial lake. The restaurant includes 3 large places, each of which can accommodate 21 people, in addition to small suites that can accommodate 9 people. The menu is dominated by a Sudanese theme, and it includes a variety of delicious dishes, including large shrimp with BBQ sauce and grilled shrimp with honey, in addition to a wide selection of vegetables, rice and noodles. The restaurant has a children's play area and a snack corner that sells chips and pickled fruits.
Address:

 Jalan Nakula No.88, Kuta, Bali 80119, Indonesia

Working hours:

 daily, from 11 am to 11 pm

Phone:

 +62 (0)361 370 0660
---
7- Bawang Merah Beachfront Restaurant
This restaurant is located in Gilan, just 3 km north of Jimbaran Beach. 
The restaurant provides tables on the beach sand with stunning views of the sea water during sunset. 
The restaurant is famous for serving seafood dishes, as well as popular Balinese dishes such as fried chicken served with steamed rice and assorted vegetables. 
The restaurant also serves a rice table that includes many of the most famous Indonesian delicacies, in addition to non-alcoholic herbal drinks.
Address:

 Jalan Pantai Kelan, Tuban, Badung, Bali 80361, Indonesia

Working hours:

 daily, from 1:00 pm to 10:00 pm

Phone:

 +62 (0)361 770 210
---
the reviewer