What is the baggage allowance and not allowed inside the plane?
Passengers on flights often carry some baggage or small bags on the plane along with their travel bags, which are stored in the plane's storage during the travel trip, away from the place where the passengers are sitting in the cabin of the plane, in contrast to their small bags that they carry with them on the plane Which are within their reach or within close proximity to them in the baggage storage above their seats on the plane, but there is a good number of passengers who may be exposed to the confiscation of a number of their belongings from the bags and baggage that they plan to carry with them to the plane, for violating these purposes imposed by airports on Baggage allowed in the passenger cabin of the aircraft.
To avoid this, let's get acquainted together with the most important restrictions and rules related to small bags that are allowed to enter the cabin of the plane, and the most important baggage and items that are not allowed to enter the cabin of the plane:
Passengers are often allowed to carry one small suitcase and only one personal baggage with them on the plane. This often includes handbags, laptops, day bags, and small backpacks.

Passengers are also allowed to board the plane carrying their own coat, reading material, a small bag of food, and equipment and tools for health or sickness purposes such as wheelchairs and walkers on board.

Airlines are now setting strict restrictions on the weight and size of bags that passengers are allowed to take on the plane, and these restrictions may vary from one airline to another, but most airlines allow carrying a hand baggage of no more than 45 inches, a small suitcase with dimensions of no more than 22 x 14 x 9 inches, and the weight limit on most airlines is an average of 8kg per bag in the cabin.

You are advised to carry medicines, fragile items, perishable items and your valuables (such as cameras, jewelry, money, electronics, etc.) in the special baggage you will carry with you in the cabin and not in carry-on baggage.
Items that are completely prohibited from entering the plane, whether they are in the carry-on baggage in the hold of the plane or small suitcases and baggage in the cabin of the plane:
Compressed gases - deeply cooled, flammable, non-flammable and toxic including butane oxygen, liquid nitrogen, breathing cylinders, and compressed gas cylinders.

Corrosive substances such as acids, alkalis, mercury, wet cell batteries and mercury-containing devices.

Explosives, ammunition, fireworks, flashlights and ammunition including spent cartridges, pistols and pistol covers.

Flammable liquids and solids such as lighter refills, lighter fuel, matches, paints, bags with professional lock and alarms.

Oxidising materials such as bleaching powder and peroxides.

Poisons and infectious substances such as pesticides, herbicides, bacteria cultures, and the like.

Anything that emits a foul odor or is liable to give off a foul odor.

Other hazardous materials such as magnetized or unstable materials that are easily disintegrating and reacting with other materials.
Items that are prohibited from entering the cabin or cabin of the aircraft: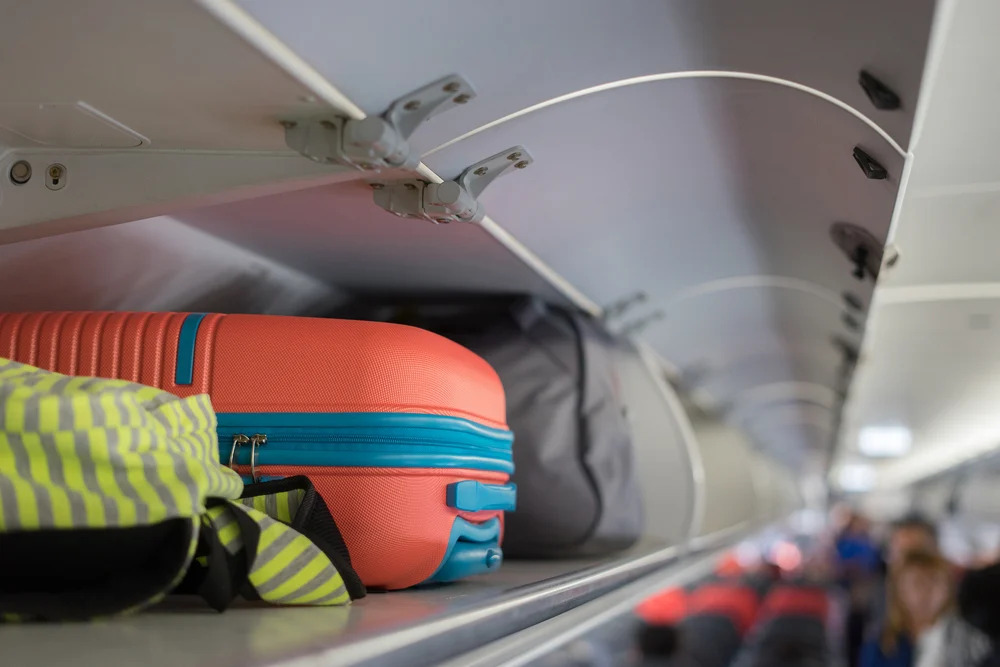 Dry cell batteries.

Knives, scissors, Swiss Army knives and other sharp tools.

Similar game copies of firearms and ammunition.

Tools used for physical abuse, whips, batons, stun guns, and the like.

Electronic devices that cannot be turned off.

Sprays and liquids, although some types of them, such as shampoo, toothpaste, cosmetics, suntan lotions, creams, hair gels, hair sprays, and the like, are allowed to be carried in appropriate quantities in the travel bags in the aircraft store, provided that they are placed in tightly closed containers.